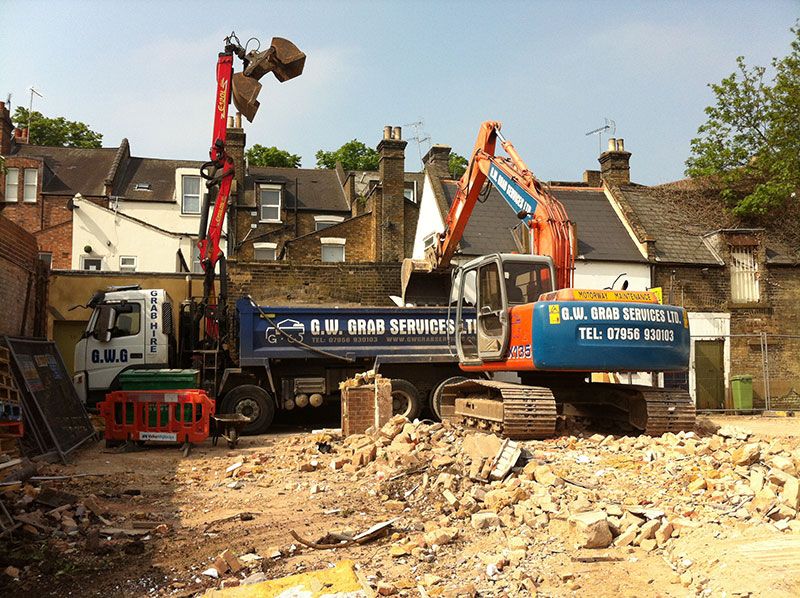 How Grab Hire Services Help You to Remove Construction Waste?
April 12, 2021
Goodbye, Heavy Waste Piles
As a builder or a contracting company, being around rubble or excavation waste would not be a new experience for you. Of course, heavy construction waste would be generated, whether you are working on a building demolition, groundwork digging or through a home refurbishment. But what we are pondering over is not your work of stacking bricks but stacking waste, which is a by-product of your scope of work. Haven't you been neglecting that heap of trash that keeps on piling up? Either you don't know the appropriate way to address the waste, or you are too comfortable with it lying on the site until project completion and then make multiple trips to the dumping zone. Both the ways are inconvenient. 
Overlooking waste on a functional project site could pose severe health issues if you come in contact with reactive or hazardous waste. Also, construction garbage lying around for days and weeks will invite insects and rodents and can damage the environment. If you plan to personally drop off the trash at a local dumping site, you will just be wasting your project time spending money on fuel. There is no need to worry, but accustom yourself to a much more convenient, reliable and advanced solution to rescue you from all waste, whether through a domestic or commercial project site, and that is, hiring a Grab Hire service!
Let specialised and knowledgeable Grab Hire services handle a difficult and arduous work, whether you're building something new or demolishing an old property. But, you may ask, what exactly are grab hires? Let us find out!
What is a Grab Hire Service?
A Grab Hire is a construction waste carrier truck or lorry that is specially designed to aid construction sites and workers to help collect and load vast quantities of waste in one go, without the need to make several trips. A grab hire truck and lorry are equipped with a hydraulic arm that can swiftly reach heights and places where it would otherwise be challenging to collect waste from. With G.W. Grab's grab lorries, you get a grab arm (hydraulic arm) that can reach up to 8 metres for taller structures with waste that is out of sight and reach! 
A grab lorry or truck is an ideal option, better than a skip, whether you have an ongoing commercial or domestic construction or demolition waste to be picked up. These trucks are managed by licensed and qualified drivers who will efficiently collect the trash and discard it in an environmentally suitable way. A grab lorry is 3 metres wide, making it spacious enough to carry hazardous and non-hazardous waste easily. 
Why Grab Hire Services?
With Skip Hire service being an eminent competitor of Grab Hire service with a dominating and leading market share, it is reason enough for one to understand why a grab hire service is undoubtedly a more practical and beneficial choice. Skips are popular; hence, many are oblivious to the ease of services a grab hire offers. But, after reading this article, we are confident you would change your opinion. Let us now walk you through the benefits.
Convenience

: Unlike a skip service, a grab lorry does not block your driveway or space on your construction site. It will simply visit your site location or property, collect the waste and leave, minimising disturbance on your busy day. 

Larger Waste Volume:

With a regular skip, you not only have to receive a permit to hold them on the road, but a skip will also make multiple trips to the dumping zone, costing you crucial time. On the other hand, a grab hire service is much more efficient and time-saving as it can hold twice the rubbish of a skip. 

Specialist Assistance:

With a grab hire service, you do not have to hire a specially dedicated team to manage the waste, as grab hire services are looked after by a qualified and professional team with the same cost-effective package. With a team of experts behind your back, you do not have to worry about hiring manual labour or manually handing trash yourself. 

Multi-Purpose:

Apart from picking up and collecting waste, grab lorries help handle many jobs. For example, they help deliver raw construction materials such as sand, gravel and cement. They also efficiently carry all sorts of hazardous, non-hazardous and inert wastes. 

 

Affordable:

It saves you from multiple costs such as permit fees, fuel for making trips and labour. With a skip, you would be generating all these expenses. Moreover, a grab hire service is much more budget-friendly and fits within your project budget. 
G.W. Grab – The Waste Removal Pros
G.W. Grab is a leading and professional grab hire service you shouldn't miss out on. We offer a 24/7 reliable and quality site clearance service with the largest and most reliable fleet of vehicles. With our unmatched grab hire services, you can avail yourself of innumerable services such as grab truck hire, grab lorry hire, grab wagon hire, man and digger hire, muck away services,  and much more! 
If you are worried about prices, you must immediately consult with our specialists to realise we offer competitive pricing that is reasonably fair and low compared to the rest of the industry. We raise our quotes considering your project costs and would never exceed them to be a burden for you. 
You will come across many grab hire services near me on your Google search, but if you wish to hire the best and unparalleled, then call us today on 07956 930 103 to book your date and slot!