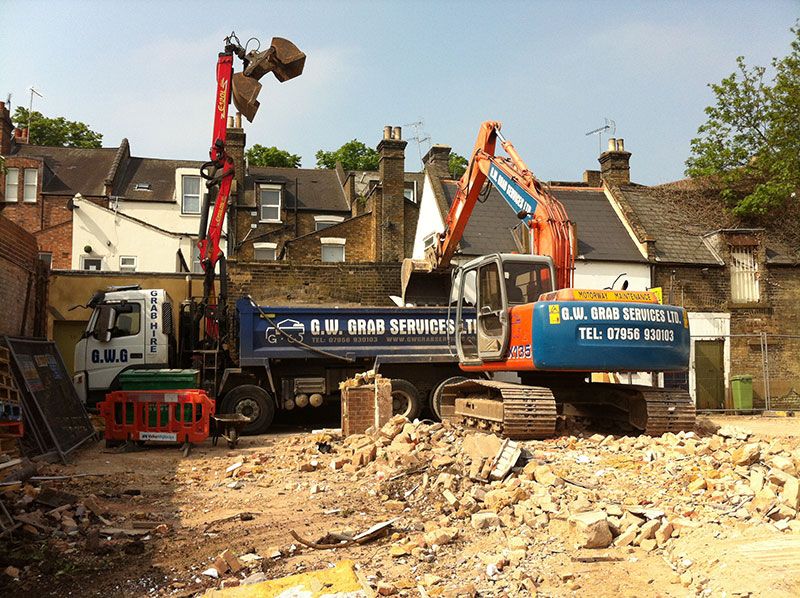 Grab Hire Ltd – The Reliable and Efficient Clearance Service
If you are looking for muck-away, grab hire and aggregate supply services in Kent and East Sussex, look no further than GW Grab Hire Ltd.
With 20 years' experience within the industry, our team of professionals know how to provide an efficient and cost-effective service. We have the expertise and knowledge to complete any disposal and clearance duties. We thrive to meet our customers' needs and requirements safely and effectively.
Our eight-wheel lorries are versatile to work in the most difficult places. With our trucks manoeuvrable crane arm, it can reach up to 4m, this means we are able to lift materials over tall fences, walls and other obstacles.
Grab Hire Service
Are you looking for a Grab Hire Service in East Sussex, Kent and beyond?
We are here to help. Our services are ideal for any project size, from large commercial construction to domestic site clearance. We can collect, transport, or dispose of any large waste and other construction materials.
Our service takes away the hassle of going to the tip, allowing for more flexibility. With our mechanical grab arm, we can place items exactly where they need to be. Our trucks can handle up to 16 tonnes, making them perfect for any clearance jobs.
Our skilled and friendly team can supply all the equipment needed. All you need to do is make sure that the materials are easily accessible for our team and crane arm. We thrive to make the process safe and quick for you.
Muck Away Service
Are you in need of a Muck Away Service in the Kent and East Sussex areas?
Look no further than GW Grab Hire. We can help dispose of all your construction and demolition waste at an affordable price.
We understand how disposing of waste materials in a legal and environmentally friendly way can be difficult. At GW Grab Hire, we take the stress away and handle the process for you.
With two decades of site clearance and muck away experience, our team understands the perfect methods and locations to dispose of your waste effectively.
We are aware of all local and national laws and regulations regarding waste disposal. Our professionals remove all waste safely and effectively, providing a stress-free experience.
Construction Aggregate Supply Service
Are you looking for a reliable and trustworthy company to deliver high-quality aggregates to your location in Kent, East Sussex and the surrounding areas?
Here at GW Grab Hire, we can do just that. We ensure to deliver the best quality aggregate on time at your location. Our professionals can deliveraggregates to your location with our specialist grab arm trucks allow for manoeuvring materials over high fences and walls with ease.
We make sure to create a bespoke service tailored to your requirements, as every job is unique. We have the knowledge, expertise and tools to provide affordable, high-quality gravel, sand or ballast exactly where you want it.
Contact Us
If you are looking for a reliable, trustworthy professional site clearance and grab hire service, look no further than GW Grab Hire. Give us a call on 07890597147 or fill out our online inquiry form and we will get back to you as soon as possible.