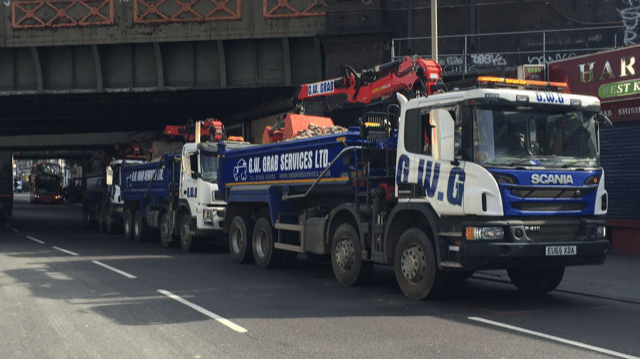 Grab hire services
Do you have a large amount of waste due to either domestic or commercial reasons? Have you found yourself unsure about how to go about this waste removal process? Then look no further. G.W. Grab Services Ltd have put this blog together to inform you about everything grab hire services can offer. Whether you want to know how much a grab hire costs or how far can a grab lorry reach, we have all of the information you would ever need.
What is Grab Hire?
Grab hire is the process of removing waste from a property using a hydraulic grab arm to collect the waste and deposit into a grab truck. Not only does it save you time, but it is also effective for gathering both small and large quantities of rubbish. Choose grab hire services for your domestic or commercial waste removal project and save yourself a trip to the dump.
If the construction site or domestic property does not have enough space to store a skip, then a grab lorry is a perfect option for that. Grab lorries promise efficiency so you will not have to worry about it sitting there for a long time as you might with skip hire.
How far can the grab arm reach?
Grab lorries have a hydraulic grab arm that can reach up to 8 metres. This makes it amazing for reaching difficult areas and over tall obstacles such as fences.
How wide is a grab lorry?
Grab lorries are only about 3 metres wide, making them a much better option over skip hire for sites that do not have as much space.
Grab Hire Cost
So, how much does a grab lorry cost to hire?
Well, there is no certain answer to this question. This is because there are many different sizes of grab lorries the different rates that other companies charge make it hard to give one set answer for this question.
However, if low costs and reliability are what you are looking for, G.W. Grab Services Ltd is the perfect company to go to. Our company deliver high-quality services in the areas of Essex, Hertfordshire, Harlow and Stortford.
If you would like more information on prices, call us on 07956 930 103 for a free quote.
What makes a good grab hire service?
When searching for 'grab hire near me', there are several things that you should keep in mind when choosing. The factors listed below are what you should look for to get the perfect service when hiring a grab lorry.
Reliability
When hiring a grab lorry, you want to make sure that the company are genuine and reliable. You want to be sure that the grab lorry will be there exactly when you need it. Prices are also a factor of this; you want to be positive that you are not being ripped off for this grab hire service that you are thinking of going along with.
Efficiency
Clearing up large amounts of rubbish is annoying, we get it. However, it seems that not every waste clearance company understands this. It is important to ensure that the grab company that you choose is known for its efficient services. This is important because if it is for commercial needs, you may have a deadline that needs to be reached. If it is for a domestic project, I'm sure you do not want a huge pile of rubbish on your doorstep, right?
This is why efficiency is a key factor in booking a grab hire service from a company. Check the reviews of the business and make sure that the company have great reviews for their timekeeping!
Friendly customer service
No one wants to deal with rudeness or attitude when hiring a grab hire service. What you want is a team of friendly individuals that love what they do and are passionate about helping their customers. This is a strong factor at G.W. Grab Services Ltd as we always put the customer first and we aim to always give the perfect experience to our customers.
G.W. Grab Services Ltd
After reading this information, you should know if a grab hire service is what you require. If you don't, that is not a problem! We would love to help you decide which service would be the best option for your waste removal project. Just get in contact with us, and we will provide expert advice for you at no cost.
If you know now that grab hire services are what you need, the next step will be finding the right company. Look no further than G.W. Grab Services Ltd. We are a leading company for grab hire in London. Everything from high-quality customer service to efficient services, we provide everything mentioned in this blog.
Our team here know that you want to get rid of rubbish build ups as quickly as possible. Our efficient grab services ensure that your rubbish is gone soon after booking with us. Reliable and friendly are two words that our previous customers are never shy to use when booking with us.
For a free quote or expert advice, call us today on 07956 930 103 . We look forward to hearing from you!