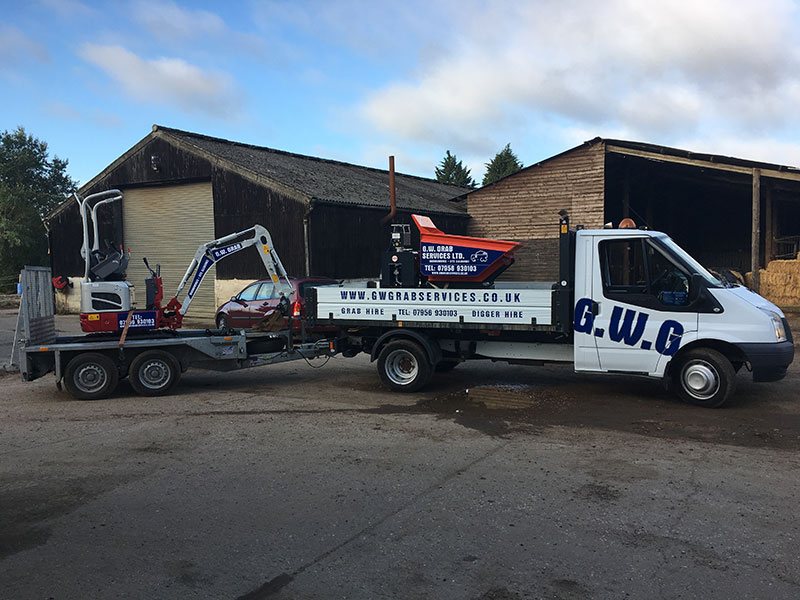 How Does Grab Hire Work? Everything That You Need to Know!
April 12, 2021
Are you overseeing a large construction or demolition project? Do you have a large amount of natural or garden waste that you need taking care of? Then you may well benefit from hiring a grab lorry or two to make sure that you get everything picked up and taken away as and when you demand it. If you've been working in construction or excavation for a while, then you will likely know how important top quality grab hire near me can be.
However, setting up a grab wagon or grab lorry rubbish removal service on your own isn't always easy. In fact, many professional builders and demolition experts actually turn to local grab waste collection teams to help them get all of their bulkiest and most nuisance waste up and away, ready to clear for the next job.
Here at GW Grab, we've helped all kinds of businesses, professionals and home excavation and removal needs with tipper grab hire, grab lorry rubbish removal and more. But what if you have never hired a grab lorry or local grab truck before? What can you expect from this kind of service? Keep reading for the complete lowdown from your local experts.
Hiring a Grab Lorry Near Me
A grab lorry is a heavy duty vehicle that has a huge receptacle or skip bin available in which we deposit waste and refuse. This could be waste from building or construction work, it could be from a local landfill or tip, or it could be from a private project. In any case, a grab hire service will endeavour to pick up a huge amount of rubbish and refuse with the aim to take it off your hands, and to get rid of it in an eco-friendly manner. Wherever possible, we recycle as much as we possibly can, which means that you never have to worry about where your rubbish is going to eventually end up.
The biggest benefit to hiring any kind of muck away grab lorry service is the fact that you'll have access to a fantastic grab arm. The grab arm is the main tool attached to a grab lorry vehicle, and it is essentially a powered access support. This arm will dig deep into huge mounds of rubbish and debris, will scoop it up, carry, and deposit into the truck bin, ready to be taken away. This means you will never have to worry about having to dig too deep into your rubbish on your own.
The best grab lorry rubbish removal services will help you pick up and remove seriously large and heavy refuse piles, meaning if you are physically unable to scoop up and remove refuse or debris on your own, then a grab lorry service will take care of it all for you. One of the biggest reasons why professional excavators and building services use grab lorry teams is that it's really easy to just let a grab arm dig into a pile of waste and to scoop up seriously heavy detritus.
Rather than waste time, effort and even your health and mobility moving large clumps of waste on your own, it really does make sense to get a grab lorry soil removal company, or a grab truck hire service that specialises in building site cleanup, to get all of your refuse picked up and thrown away at the earliest, easiest opportunity.
Is It Easy to Hire a Grab Truck Company?
Yes! That, after all, is why we're here. GW Grab Services offers a simple, straightforward grab lorry service that you can either book online or call the team to arrange at your earliest convenience. This means that you will always be able to plan ahead for any eventuality when it comes to grab waste collection, and that you can take care of your construction site without having to muddle around with heavy duty rubbish.
Top grab waste collection should never be difficult to arrange or take care of. All you ever need to do is have a vague idea of what you need from a grab truck, and then contact your local services near me to ensure someone professional can take it all away for you. What sets GW Grab apart from the competition is the fact that we are so flexible when it comes to a variety of waste collection and rubbish removal needs. No matter the size, weight or type of refuse you need us to get rid of, we will be on hand to pick it all up and to get it all out of the way for you.
If it's the first time you've ever considered grab lorry waste disposal before, then it might be a good time to speak to our team in detail. If you're really not sure what size of bin or what type of lorry you need, we will always be happy to carefully guide you through the whole of the process. Whether you need a big grab wagon hire near me or small grab lorry services, all we ask is that you give us as much information as you can.
This way, we can be sure that we are setting up grab lorry hire services that fit within your remit as well as your expectations.
Call GW Grab Services Today
GW Grab Services is a local company offering local rates. We are the top choice in the region for grab lorry hire in all shapes and sizes, meaning that even if you only have a small amount of rubbish to get rid of, or if your commercial waste pile is spiralling out of all control, we will always be happy and on hand to give you the support and care you deserve.
Call us now for a free quote for your grab hire project or do book online and we'll get back in touch with you as soon as possible. It's time to get serious about moving that bulky waste off your premises!