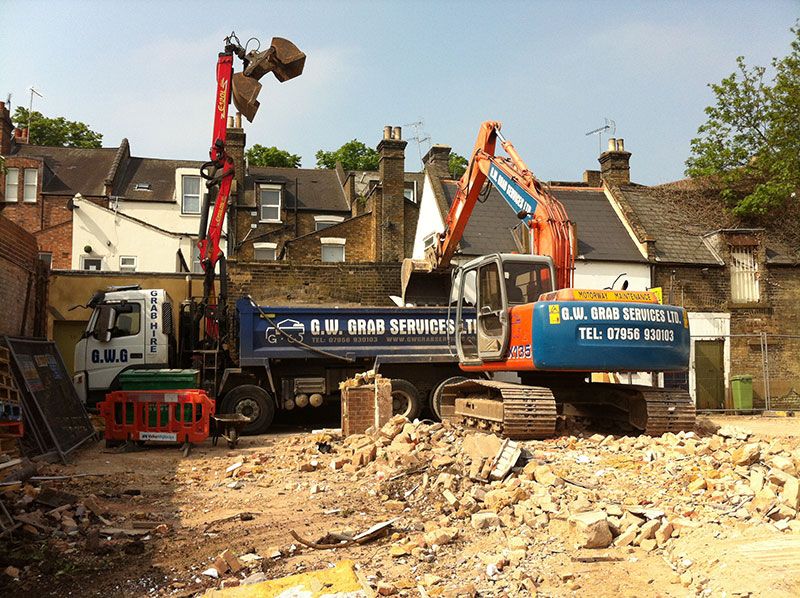 Why Might I Need Grab Hire near Me? Here's Everything You Need to Know
April 12, 2021
Even if you regularly deal with large piles of waste and rubbish, you may still not have come across local grab hire services before. There's no need to worry! Grab lorry services are here whenever you need them, and while you may not come across them each and every day, it really does make sense to have the number of a local team of experts on side as and when you find yourself in need of support and heavy duty care at short notice.
GW Grab Services is a long-standing local company that offers grab truck services and grab arm waste pickup for various purposes and reasons. Whether you are running a building site or are overseeing a large scale home renovation project, there are always going to be opportunities for you to hire a grab lorry near me at short notice.
However, if it is your first time looking into local grab waste collection, it's a really good idea to get in touch with seasoned local experts who can answer all of your questions. This way, you will know exactly how much support you need, what you can expect on waste pickup day, and why hiring a grab truck at all is a fantastic idea.
Keep reading, however, and we will attempt to break down conundrums for you a little bit further! Where can you make the most of grab waste collection near me? Here are a few scenarios where having a top grab hire team on standby really could help.
Home Renovation and Excavation
Not all homes need much more than a small skip or a couple of wheelie bin collections to start taking rubbish and refuse away. However, there may be an occasion where you need help getting bulkier waste up and moving. This, for example, might be if you are taking care of a home renovation project, effectively gutting out a large property and/or preparing it for sale. You might even be getting ready to move into a new home and need help getting a load of the old fittings and fixtures moved up and on.
In some cases, larger homes and renovation or refurbishment projects really do need the support of grab hire near me. While you may be able to get rid of smaller amounts of waste on your own, it stands to reason that you should ask for more heavy-duty help and support if it's physically impossible for you to clear up on your own.
It's tempting to think that grab truck waste removal services really only help on building sites and for commercial or industrial means. However, GW Grab Services makes sure to pivot to all eventualities. That means we often help clear up homes and renovation projects, too.
Building Site Cleanup
Anyone who works on building sites will already know that they need all the help they can get in removing nuisance waste, rubble, debris and more besides. Taking away all of your demolition or construction waste on your own just isn't feasible. It might not only be physically impossible for you to clear up on your own, it might be a huge drain on your time and your resources.
Therefore, if you do need an extra helping hand in picking up mass amounts of rubbish or rubble, or anything in between, then it makes sense you should look into a grab arm lorry or similar that can safely and swiftly dig in to carve up the building waste pile. Otherwise, you are just going to be left with a huge mound of detritus that's going to slow you down on the rest of your projects.
If you can't handle large amounts of waste on your own, a grab lorry hire company will be on hand to really get stuck in – quite literally. We'll scoop up any waste you want to get rid of, siphon it off into our trucks, and take it all away.
Digging Up Gardens and Natural Sites
Another great way to make the most of local grab hire services is to use grab arms and lorries to take away huge amounts of soil, earth, mud and more. You might need to completely redo or refurbish a garden or plot of land, for example. Chances are, even there are a few of you with spades and shovels, this is going to take a long time for you to cover without some form of heavy duty powered access.
So, make a point of calling your local grab lorry hire services near me. GW Grab will support you with a lorry of an appropriate size, as well as a grab arm and skip bin that we can siphon and throw all of your unwanted waste into. It really could not be any simpler. Garden waste is some of the trickiest to get rid of, as you'll often need a specialist bin or collection team on hand to pick everything up and to make sure all the detritus gets recycled. However, sometimes, that's not always simple to arrange.
GW Grab Services therefore takes pride in the fact that we offer a wide variety of specialisms in all that we pick up and clear. Therefore, even if you need to get rid of seriously huge piles of soil and rubbish, we're here as soon as you need us.
Call GW Grab Today
As soon as you know you're going to need help from a local grab lorry company, you should get the old smartphone out and start dialling GW Grab. As one of the longest-standing grab hire service providers in the local area, we are certain that we can handle any and all of your rubbish clearance and pickup demands both swiftly and within your budget. You never really know how much we can help until you call us for a free quote – it's as simple as that.
So – take advantage of the best timescales and prices for grab lorry hire right now! Call us 07956 930 103 or email the team as soon as you're ready.