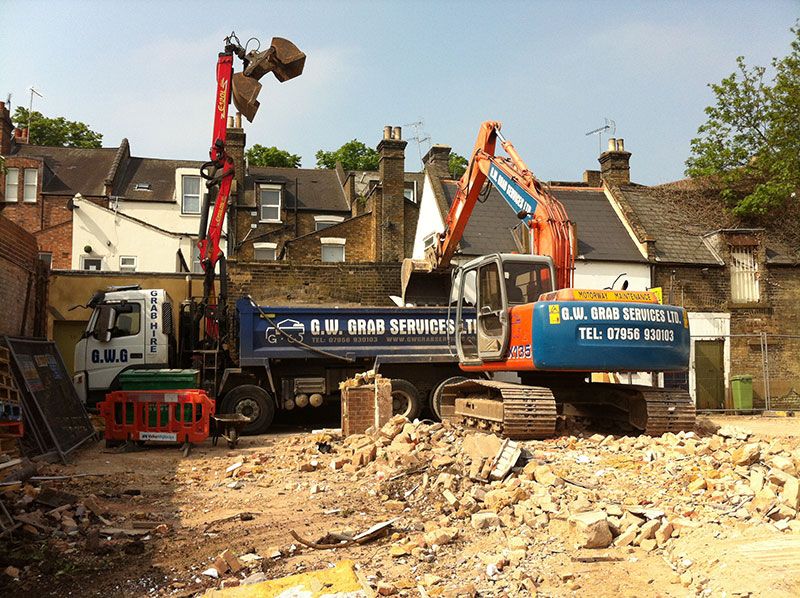 Muck Away Services – A Builder's Aid
April 12, 2021
Alert: Site Clearance Required
Every construction or demolition project revolves around excavation or digging, which leads to building waste piles. The amount of dust, filth and soil that adds up in the earthwork operations could lead to health and environmental hazards if left unattended. We are sure you don't want to complete your remaining construction assignment by coughing your way till the end, inviting rodents to the site or jeopardising the health of your staff! Moreover, such heaps of dirt and waste could take up a considerable portion and storage space of your site location. If you wish to avoid all this, clear the area immediately and continue your work without disturbance or blockage. A spotless site will help you not only to breathe fresh air but also think and process faster. 
But, hold on! When we said clear your project location, did you intend to take trips to the local dump? Oh, no! This would not only increase your project cost and also affect your crucial project timeline. Gone are the old ways of disposing of construction waste. Today we have much more valuable and efficient ways to address and manage waste, and that is, Muck Away services. 
You might be oblivious to what is a muck away service. But, trust us, it is one of the best services that will save time and bring great relief to builders and constructors! 
What is a Muck Away Service?
A muck away service is a service opted by builders in the early stages of a construction project to clear the site from all the soil, rocks and sand generated through the earthwork process! The waste is picked up and collected with the help of grab hire and disposed of using suitable methods. It helps builders clear the mess and continue working without making trips to the dumping zone. Whether your project is for a domestic or industrial construction site with small or vast quantities of waste, hiring a muck away service could help quickly complete the waste removal job. 
Hiring a grab lorry for your muck away waste would be a wiser decision than hiring a skip service, as grab lorries are more economical and equipped enough to carry larger quantities of waste in one go!
Spoil Categories
The muck away wastes usually cleared mainly include soil, concrete, rubble, bricks, garden and green waste, aggregates, metals, asphalt etc. 
Let us understand the types of muck away waste in-depth! 
Muck Away Waste Types 
As a builder, you need to know the muck away waste types to hire for an efficient and robust service to pick and collect your waste safely.
Inert Muck Away:

This category of waste includes waste that has not gone through any chemical, physical or biological changes and is unreactive or will not impact any other waste it comes in contact with. Such trash does not cause environmental or health hazards and includes soil, sand, green waste, clay and rubble. 

Hazardous Muck Away:

Hazardous muck away classifies the category of waste that can pose a severe threat to public health and the environment. Hazardous waste includes substances or properties such as asbestos, chemicals, solvents, heavy metals, batteries or contaminated soils. 

Non-Hazardous Muck Away:

As the name implies, non-hazardous wastes can be categorised as the ones which do not potentially cause any harm to humans and the environment. Non-hazardous waste includes generic waste that either cannot be decomposed or might decompose with time. It includes wood, furnishings, food and packaging waste. 
Benefits of Muck Away Services
There are a good number of benefits of hiring a muck away service for your construction site, such as:
Quick and timely removal of waste from the site as per your schedule. 

Our fleet ensures the site is left clean so you can swiftly focus on your construction business. 

A grab lorry can pick up all kinds of domestic, commercial, and heavy waste at once, without completing multiple trips. 

A muck away service is economical as the rates can be negotiated, and the quotes are raised based on the load, per hour or day basis. 

Hiring a professional is much safer than clearing waste yourself. With skilled assistance, you receive safe, efficient and quality muck away service. 
G.W. Grab's Specialised Muck Away Services
At G.W. Grab Services, we have an extensive and specially designed fleet of grab lorries to assist with all your construction projects, no matter how big or small. We have been making waste clearance for builders and contractors convenient, affordable and reliable for years. Whether it is a vast excavation, rubbish removal or a minor earthwork spoil, we got your back. 
Moreover, we manage waste efficiently and environmentally friendly instead of dumping or tossing it carelessly. You can trust us! Our grab lorries are handled by qualified, skilled and fully-licensed waste carriers and drivers. 
Customer satisfaction is our top priority, and our team will never falter while catering to you. Still don't believe us? Why don't you call 07956 930 103 and book our muck away service to experience a quality and affordable service like never before? We are confident you will be pleased!